Waking up with a ball of left over fondant still rumbling about in your tummy is not my idea of fun. I climbed out of bed, wobbled and wove my way through the house in a near diabetic coma only to come face to face with a yellow submarine still sitting on my kitchen table. Must be everyone thought it was so pretty, they couldn't bear to eat it, right? Must be.
I yawned, smacked my lips a bit, scratched my tummy and then stretched in an effort to wake up. What day is this, again? Oh, yeah! The Day After Birthday... and Darling has to get up and go to school. Poor little punk.
Last night after City Boy got home from work, Darling opened up her gift from us. The trouble with being born so soon after Christmas is that you get your gifts wrapped in left over Santa Claus paper.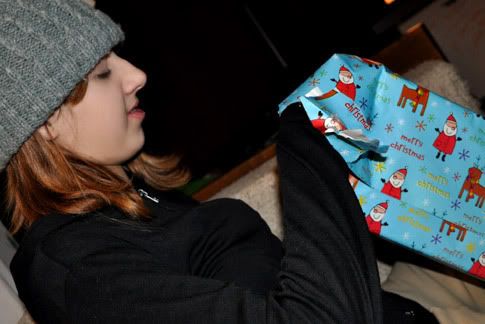 I could hardly wait for Darling to get her present. It was just as much for me as it was for her. City Boy had ordered it months ago and it had been sitting in our closet, just begging me to give it to her for the longest time. I was like a yappy little dog..."Can I give it to her now? Canicanicanihuh???"
As the paper fell off, a smile blossomed on her face. "Do you like it? Doyoudoyoudoyouhuh?"
Truth be told? I don't care if the little punk likes it. She can stop stealing mine now! And I won't ever have to have her whining over my shoulder again, saying...