Oh, what a difficult thing to ask! My favorite two photos from the '09 Sunday Stills? Life would have been much easier this morning had I remembered to label all of my Sunday posts.
Then again, it may have made things even worse if I'd had a larger selection of mediocrity, eh?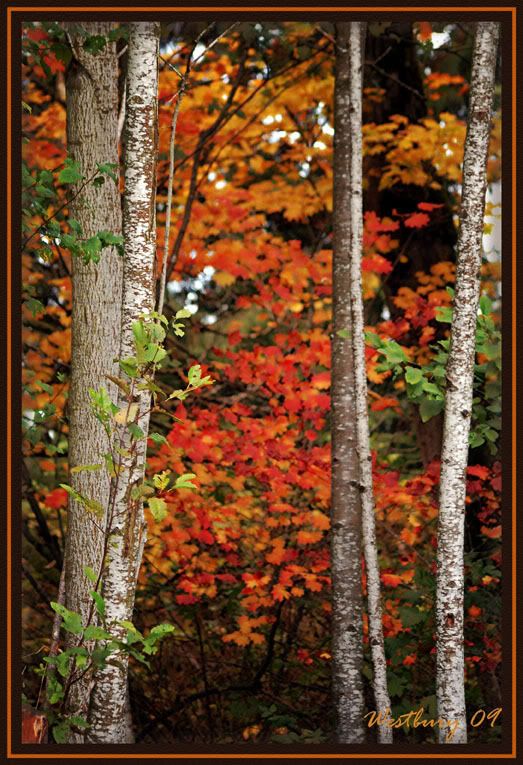 Thankfully, one of those that I came across was this shot taken out in my backyard. One of our little vine maples was simply ablaze with color! I love the vertical lines of the alder trees that frame those tiny little leaves. And I love their speckled trunks. I could do without the green leaves on the left side. Why didn't my gardener take care of that for me?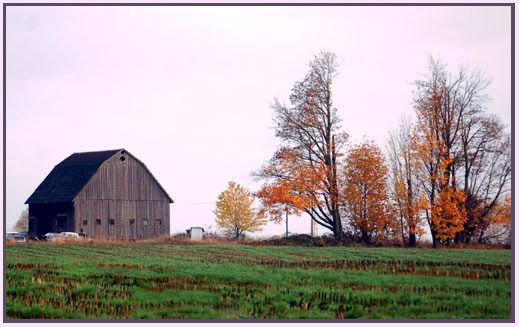 Selecting a second photo wasn't so easy, but I finally decided on this 'Drive By Shooting'. Not that this was the subject of the day when I posted it. Heck, I don't even recall what we were shooting that day. More fall color? Fog? Recently mowed cornfields? All I recall is that I'd been out to pick up some grain and came across this old barn in the fog and shot it as I was driving down the road.

And those would be my two favorites for Sunday Stills '09. Now, since you're here, would you mind helping me out a little? The post below this is requesting some creative thinking and titles for some photos. I'd be much obliged if you'd offer up some suggestions!