Here's the thing about hauling a horse out to destinations unknown. If they're still a bit nervous and frightened and not wanting to be with you...put them into a strange situation and you'll find them clinging.
Most of the time.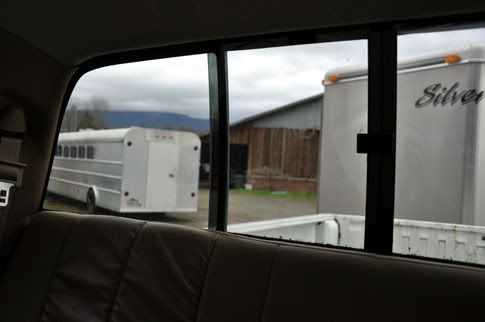 Tika is not an exception to that rule. She feels pretty spunky at home, but at the riding club she looks to me for leadership, because where else can she turn? Yesterday, we went to yet another new location. We hauled an hour down to Curt's place where we worked on lunging without the help of a round pen. Lunging period is difficult for Tika. She doesn't like to turn away from me. She'd stand faced up her entire life if it were up to her. After all, if her nose is to me, I can't really reach the rest of her, now, can I? But she got it figured out while we were there, and I must say that she bends very nicely in both directions, her nose and hip tipped into the center of her circle as she moves around me. Hopefully that will continue once I climb on.
A new location was not the only thing Tika faced yesterday. We're working on standing tied in the trailer. Tika likes to turn around and face the doors when she rides, but that simply will not work much longer as I'd like to haul Sandy along with her so we can start ponying. So yesterday I looped my long rope through the tie ring, then around another bar in the trailer. This created some drag, so if she panicked and pulled, she'd feel some give. When I got to Curt's, she was still standing tied, but those legs of her's were locked tight!
All in all, it was a very good day for Wadatika. She survived an hour long trailer ride while facing forward, learned to lunge outside of a round pen, and got to see the Hydra Bull parked in the arena. Oh...how I itch to see how she'll do with that! Once she was unsaddled, I left her long rope looped around a post in the arena and went inside to visit for a bit. Tika was standing where I had left her when I returned 30 minutes later. No pulling herself loose, just nice and relaxed. What a good girl!