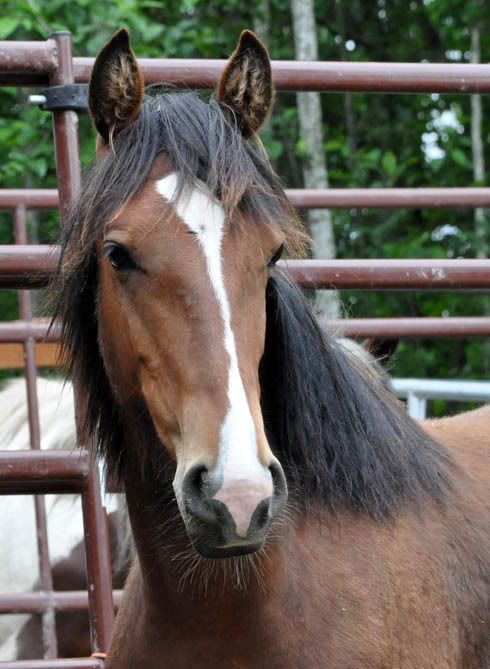 It's funny how kids change, isn't it? Several years ago we were given a little gray mustang from the Colville Reservation. Darling named her Sassy, and sassy she certainly was! Darling was only 8 at the time, and since Sassy wasn't broke to ride (oh, you could toss a kid up there and lead her around alright), Darling never really had an opportunity to do much other than be led in a few circles. Her interest wasn't high, and it wasn't long afterward that City Boy lost his job and I decided to sell the little gray mare. A diminutive 12.2 hands, she'd been too small for me, though I'd gotten her started under saddle, we sold her to a woman who raised ponies for driving, and Sassy had just the flash and trot she was looking for.
Darling admitted, once the mare was gone, that she'd really only liked telling people she had a horse...she didn't really like the effort involved.
Then came Quiet Storm...and all that changed. Somewhere deep down, the horse gene was ignited, and Darling became hooked. Sorry, City Boy...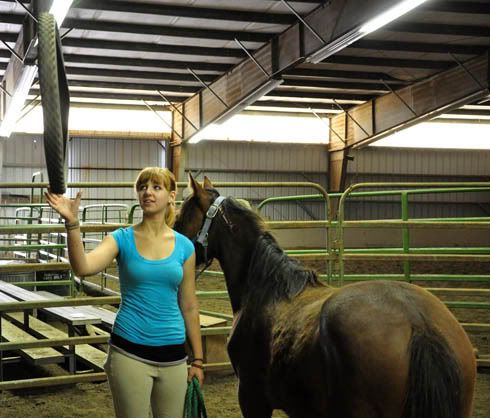 The past two weeks have seen such great improvements in both Beamer and Darling that I'm sometimes blown away. Darling is no longer interested in simply saying she has a horse. Or for that matter, just sitting pretty on one going over jumps. She's out there daily working with her little girl in an effort to have a good showing come October.
Beamer is picking up feet and walking over bridges. She loads relatively easily into the horse trailer and is a breeze to catch, even when turned out into the field with the others (she's been out with Tika and Sandy, just like a big girl!)

Darling decided that Beamer was ready for a little more advanced learning, so she went out and saddled Sandy the other day, and off they went...Beamer in tow! This was Darling's first experience in ponying, and she did a terrific job of keeping the filly attentive and Sandy under control. I'm thinking a little trail ride may be in our near future!
Things were going so well that I asked Curt if I could possibly bring the two of them down so he could work with Darling in his round pen. My quarter horse loving guru is always nervous about the dangers of wild horses, especially partnered with children (he's not said it, but I know he thinks I'm nuts!), but he agreed to help out.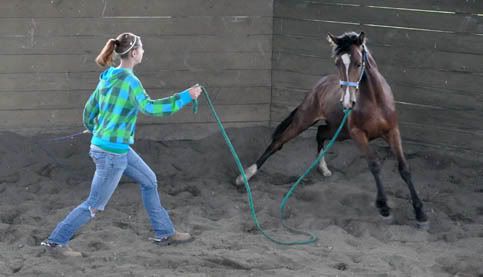 They worked on timing and Darling's positioning while on the ground. It's always difficult to get your new mustang to switch directions...you spend so much time trying to get them to face you and come into your space, and next thing they know you're chasing them back out of it. But Curt is quiet and kind, and taught Darling how to get Beamer to move out, then to step back in for some petting and rewards.