Uh-huh...
That's right!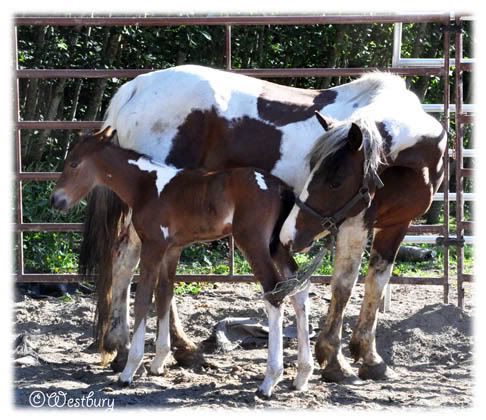 Momma had her baby!
I didn't even notice her at first...just went out, tossed some hay through the mare's window, grabbed the boys and headed across the creek so they could be turned out to graze for the morning. When I returned a few minutes later to put grain in her bucket? Wow! What a surprise met my eyes!
On Wednesday evening I'd noticed a slight softening of the vulva on Momma, but it wasn't much, an certainly not what I'd noticed on my sheep. Her bag had changed shape just a bit, but again it was nothing like the super tight and full udders I've seen on my ewes. So I expected by the weekend, perhaps, we'd have a foal.
But I sure didn't expect to have her 12 hours later!
Now, just in case you're wondering, there will be a naming contest on the
Mustang U facebook
site in the next day or two, so please do visit there often. Plus, you'll find additional photos in the album there, as well as a few on the
MU Blog
.
The adoption fee for this filly will be raffled off! Winner of the raffle will still need to submit an approved adoption application, but the fee will be waived. And more info on that will also be found on
facebook
or the
MU blog.
Happy Trails, y'all...I gotta go play with a baby!