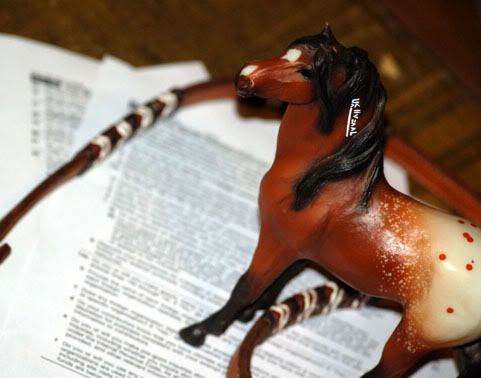 Today was filled up with paperwork. Lots and lots of paperwork. We had a Mustang U board meeting and are attempting to get our federal non-profit status in place. Filing fees go up as of January first, and that would be money better spent on feeding horses, so we're pushing to get it done. Have you ever filed this sort of paperwork? You gotta love the IRS. They like to use terms such as 'the consequences of your actions' as opposed to 'we're sending your lily white hiney to jail if you screw this up'. Really puts your mind at ease.
Sandy & Steve Holt! have gotten back into shape enough for Darling and I to head back to our riding lessons this next week. Steve Holt! began going over fences last night; first time in nearly 2 months. He's lost a bit of muscle tone in the hind quarters after his extended vacation through the month of November, so Darling is being careful not to over do it with him.
I had fun the other day going back through the Diaries and checking to see where Steve Holt! was in his training at this stage of the game compared to Tika. Kind of difficult since I'm not sure just how much time I'd put into Miss Sassy Lips earlier this fall, but we've only got 2 cumulative weeks, so we're not too far off the three week mark as best as I can tell. And with that to go on, I'm extremely pleased with the lip wagger.
I took quite a bit of video footage yesterday, and could easily have created a 10 minute video for you to watch...
after
editing. But Darling, the video expert, said you'd fall asleep trying to watch anything I created that lasted over three minutes. And since I don't want you bonking your little noggins when you hit the floor snoring, I cut it down to just under three. It's nothing more than the saddling portion of our workout, but note that Lippy stands pretty well with relative little back talk. She is heads and tails above Steve Holt! at this point of the saddling game, and 150% better than both the boys in accepting the bit. I'm very happy with this girl!
Special thanks to Teresa Farris for allowing me to use her music in my videos! Check out her album in the side bar.