City Boy sent me an email the other day letting me know about a photo contest being sponsored by Troxel. Great! Sounds like fun. I figured I'd haul Sandy over to my friends place and let him get acquainted with the cattle and an open field on Saturday, then Sunday we'd return and Darling could ride and I'd get some photos.

It was bitterly cold, and we didn't last long. Sandy was more concerned about the fact that there was grass beneath his feet that the cattle had yet to rip out by the roots (which, of course, cattle don't do) than he was the brisk air or cattle milling about. I asked him to move in and out of the herd, and even separated a calf or two while we were at it. Piece of cake. Which is just the way I wanted it.

Come Sunday, Darling took one trip out to the barn and came back in questioning if we really needed to go to Beanie's and play cowgirl. Too cold, she insisted. I didn't put up much of a fight. As much as I'd have loved to submit a photo that was out of the norm (lets face it, cow work is done in cowboy hats...not helmets), I couldn't deny that I was happier indoors.
Which is why I was surprised when, this afternoon, Darling jumped up and asked, "You want pictures with the red dress?"
Absolutely!
So off trotted my model as I bundled myself up and gave Steve Holt! a quick brushing. I pulled out the red bronc halter that Curt had gotten me last year for Christmas and slipped it onto the mustang's head. Boy, did he look handsome!
Then out came Darling, looking all festive and beautiful, red lipstick to match her dress and her pretty cowboy hat perched atop her head.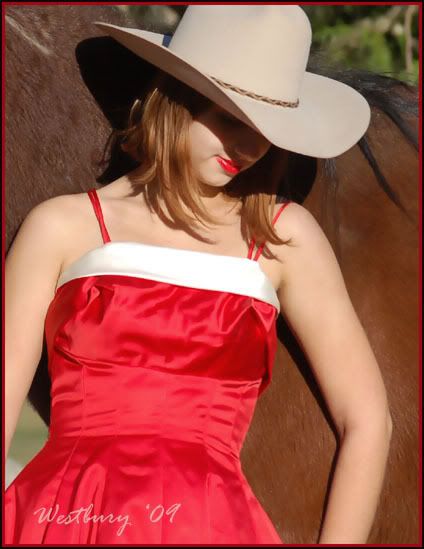 We turned Steve Holt! so that his brand faced the camera, and Darling went to work, kissing and hugging and propping herself against her horse. I just stood back and click, click, clicked away as my child stood there, no coat, in air that was well below freezing, doing what she does second best...pose for the camera.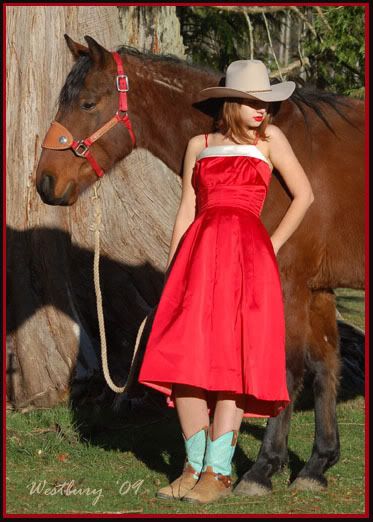 I may need to turn this into a Christmas card. And what do you think; does she need red boots.