Best Christmas Gift Ever. Hands Down. A pair of pink rubber boots that cost about $10. City Boy bought them for me when he was unemployed. Not expensive or fancy, but the color had me laughing the moment I pulled them out of their box. I loved them and wore them to the grocery store that very morning.
There's something about the color pink that just puts a smile on faces. Take Darling, for instance. Sure, she's dressed in holiday red, but ask her what her favorite gift was and she'll tell you, it was the pink saddle pad that her grandmother gave her. Never mind that she's riding a gelding...he's just going to have to get tough enough!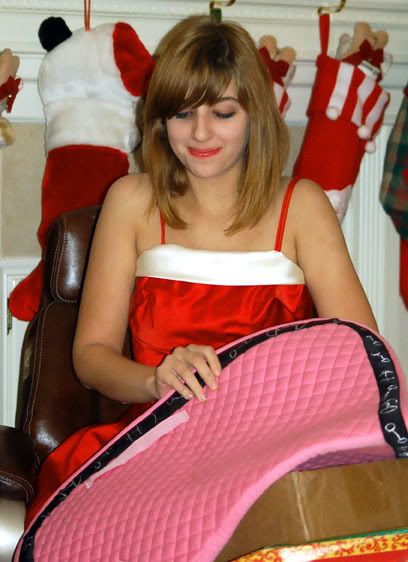 Thing Two stripped herself of her red Christmas dress the moment she arrived to clad herself in pink.
Thing One managed to keep her holiday dress on, but played with a pink sock monkey.
Well, she played with it for at least a little while before deserting it on the living room floor. Dead sock monkeys aren't much fun, you know...
Of course, my favorite gift of the day wasn't pink...
...but I'm going to have to lose a little of my pink muffin top in order to truly enjoy it!

Hope y'all had a fantastic Christmas. I've had a nasty cold (held at bay by some wonderful drugs) that has left me with plugged ears and supreme lack of energy the past week. However, I feel a bit more energetic this morning and am hopeful that I will be back to normal soon.

Stay tuned, as I'm heading up on my 3 year bloggiversary soon! Wonderful prizes could be headed your way!