The snowfall continued throughout the day yesterday. Not much, and it really didn't amount to anything. Perhaps just shy of an inch? But this morning, as the air warms and the snow melts, our world has turned to ice. How is it ice can form in 40 degree weather? The ground is still hard and cold from the past two weeks of dreadful temps, and the melted snow turns instantly to ice.
But yesterday, with no ice and only a little bit of snow, Tika and I picked up the training level a notch. She'd stood so nicely for the English saddle that I decided it was okay to bring out the Western one. I wasn't too sure what she'd do about the stirrup and fender flopping over her back. For that matter, I wasn't sure what she'd do about my lifting it up into the air alongside of her, but she was fine. A little apprehensive, but not stark raving mad. So up into the air it went and quietly onto her back. The cinch was...a cinch! She's gotten used to my reaching beneath her belly and stood right there for me to tighten it up without making any attempt to move away.
Don't mind me...I look like a dork. I really shouldn't watch myself in videos. I'm bouncing up and down alongside of her...but not big bounces because I don't know that she's ready for big. And I'm trying to rock the saddle without banging into it...and it looks downright dorkie, lol! But hey, dorky is as dorky does, eh? And really, Tika didn't seem to mind that much.
Once finished with our little exersice in dorkiness, I slipped the bridle onto her and we worked a bit at giving to pressure. She does okay to the left, but struggles to the right. Guess I know what our lesson plan is for today, then, don't I? That is, if the ice melts...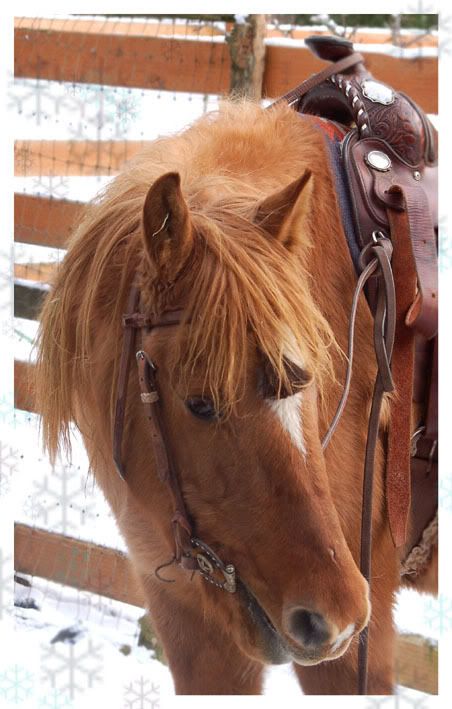 Now, all you face bookers...
Mustang U
is hosting a giveaway, so you'd better trot on over there to see what it is!