This day, last year, I had Steve Holt! in training for the Mustang Makeover.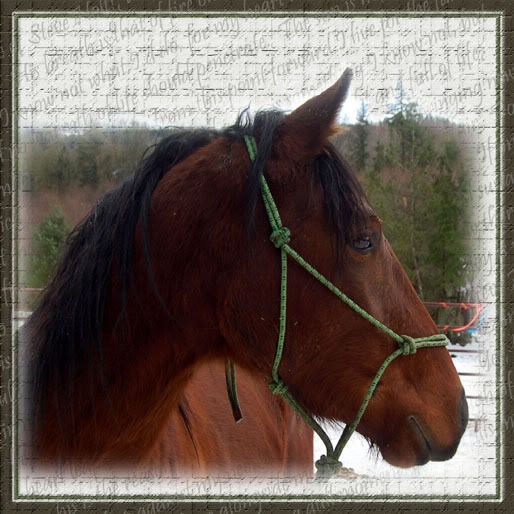 Today, I have no horses heading to makeovers, but I have got Tika in training, and as you know, I'm fond of looking back to see what life was like at this stage of the game with previous horses.

We had the four letter S word most of December last year. The ground was slick and white, so no hauling about like I'm able to do this year. Still, we had the round pen at home, which worked quite well for getting the long legged lad worked from the ground. I was thrilled when I was able to touch his head and get a bridle on three times.

THREE TIMES!

Tika's worn it how often now? Too many times to count. She's not at all head shy like the boys were. Which is odd in a way, because when she first got here she'd step on her lead and you'd have though someone had fired a bullet into her chest from her reaction! She'd sit down on her haunches and her head would fling up into the air as her forefeet lifted off the ground, releasing the lead they'd just caught beneath them. She's very sensitive to pressure, but not to touch, which has been a real blessing.

About this time, the snow was beginning to melt, and City Boy had helped me get Steve Holt! into the trailer a couple of times for our first journeys to the arena.
A video in this link
, posted December 30, 2008, shows what we probably did the day before. I was surprised to see him being sensitive to so much, especially considering what happened just two days later, on New Year's Eve.
This week, City Boy again traveled to the riding club with me to get some footage of Tika being worked. Darling, of course, worked her magic and put together a lovely little piece for me to share with you. I'm simply in awe of this pretty little mare...there's something very special about her.
Yes, it truly is a beautiful video, showing the special bond I've created with this lovely mare...I especially love the whiplash segment...