No, no...you didn't get misdirected. Nor were we hacked. This is the new face! Yes, indeed. I felt it was time to come clean and confess...I've been hiding Quarter Horses on public lands! Letting them graze among the wild ones so I could take nice, romantic photos, and letting them get fat while the mustangs (whom everyone knows exist on air and sage brush) keep fit and trim. Mmmm~hmm...that's right.
Oye Vey, what a day yesterday! Honestly, some folks just make me laugh at their nonsense. Never been to see wild horses, never been to a gather, never been to the corrals...yet they're suddenly experts because someone else tells them this is the way it is. And honestly...saying that mare looks like a fit endurance horse and that I'm used to seeing plump quarter horses? Come on, ladies, you can do better than that!
Well, at any rate, the rest of you should enjoy my 'quarter horses' that I've been hiding out there on the range, starting with this lovely bay! We'd not ever seen him before, but he sure was interested enough in us to pose, pose, pose! What a camera ham! Nearly as bad as Dibs has been in the past.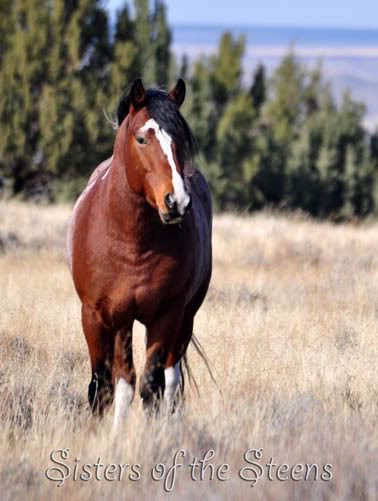 Traveling with him was another stallion, a pinto that was roaning out on his flanks. Definitely a looker...and plump!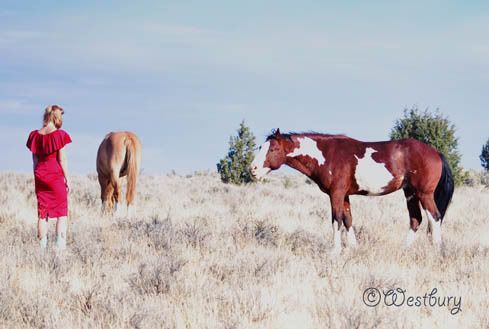 Of course, we know these can't be real mustangs, because they're too fat. And plump. So to please those of you who want to see 'fit' horses straight off the range, here ya go!
With that, I promise we'll be back to our regularly scheduled programming. I've got photos of the terrain, which helps explain why some HMAs have hefty ponies thriving, while others are gathered on the slim side to share.

And just for you Tika fans, you'll be happy to know she got to go for a ride to the arena tonight where she learned to wear a martingale. See? I'm still playing with my own pony :-)