We've been hit with a winter blast...and it's not even Thanksgiving yet! My timbers are shivering...I need long underwear. Or maybe it's time to pull out the winter coveralls?
When I climbed out of bed this morning (4:30 am, I do not know why I was up at such an un-Godly hour) my thermometer said 11 degrees. Can we say cold? I think we can.
For some odd reason, my horses do not feel the cold. Maybe it's all those middle of the night feedings I've been doing, adding grass hay to their usual 2 flakes a day alfalfa diet to help them stay warm on these frost bitten days. I decided to turn Tika and Paisley out yesterday for a bit. I led Paisley through the round pen gate, and before I could close it behind me, she shot out across the frozen ground...lead rope flying out behind her. Sigh...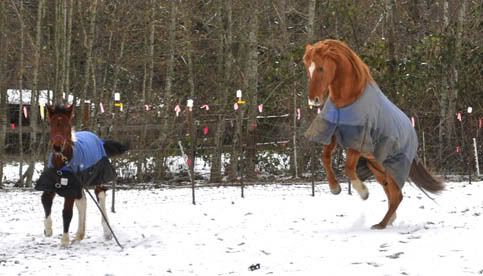 Wasn't long before Tika joined her...Beauty and the Punk, dancing around on the frosty ground. Crazy mustangs.
I grabbed a few shots...and came inside for my hot chocolate and contemplated why my horses felt like celebrating, and I felt like hibernating.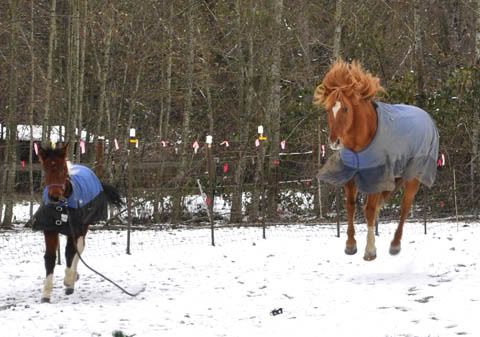 They're wearing their blankets, and I'm wearing a sweatshirt and my heavy coat, scarf and gloves. Without my layers? I'd be frozen just as solid as the water buckets. But not my mustangs...
They fly and dance and carry on like it's summer on the beach. Which it is not. It's winter, and ice covers the ground, and I'm worried about breaking a leg as I walk across the same ground that they feel is a raceway.
Someone once told me that if you don't shave your legs, they'll stay warmer in winter. Maybe that's the trick? My horses don't shave their legs...and look at all the energy they have! This is something I may have to think on a bit as I sit inside and sip my hot chocolate...