Darling edited this video I shot over the last couple of visits to Oregon
I've been hauling Tika to the riding club to work with her while Darling rides. She's been a frantic mess, and I have no clue as to why. On top of that, while working her in the round pen I noticed something that I'd nearly forgotten...a funny mis-step in her hind end as she trotted around. I'm not exactly sure what the deal is, but wonder if it's scar tissue from her entanglement in barbed wire? It was odd...she'd be trotting then suddenly her hind end would drop out from under her. It happened both directions...
I mentioned it to Darling, who wasn't happy to hear. She's been pestering me to just get busy and get up on that horse already. Well, I've been on her, haven't I? Plenty of times. I was thinking that after a week of consistent work I'd grab my good friend Roz and have her pony me. But now...what was this nervous bit about? And what is the whole back end issue thing about?
The following day, Darling was sitting on Steve Holt! as I was working Tika. "What!?" She exclaimed. "You saw that?" I asked. She nodded. So it wasn't my imagination...Tika has an issue. Well...one more issue than the others she's already packing along.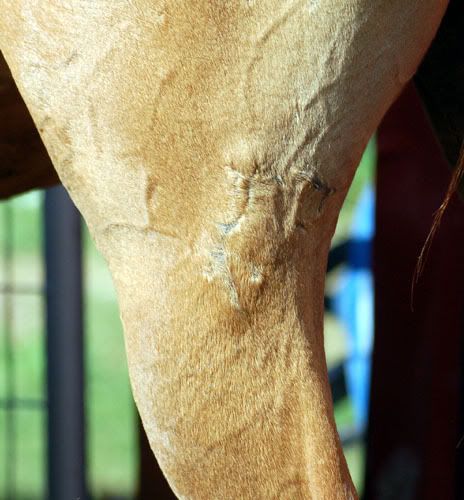 Tika's scars are on both hind legs, as well as one foreleg.
While I'm trying to figure a plan of action for the red headed fury, I'm also needing to get busy with Lefty. With the trips to Oregon here of late, I've not spent a good amount of time with anyone here, and the big boy really needs to get going. So that's what we did. We went. I loaded him up today and hauled out to the riding club. I was met with 4 other horse trailers there, however, and a severe lack of time to attempt to fight that much distraction. I opened the trailer door, though, and allowed the backward facing boy to stand and munch on hay while I stood in the parking lot talking to Roz for a bit. Good for him to learn to stand patiently and not worry about doors opening to unfamiliar scenes.

Upon arriving back home, the winter daylight was fading and we unloaded into a fairly dark driveway. Lefty did fine, stepping out carefully and slowly, then leading nicely to the barn. Certainly not a difficult work out, but it's good for him to travel without added stress of workouts now and then.