I live in a valley, but I do not see sunsets. To the east is a large hill which, in the winter, delays the sun in it's morning appearance until 10 am. And by 3:00 in the afternoon it has slipped again from view, this time behind the treetops to the southwest of the house. Sunrise, sunset...sunrise, sunset...we never see either here. Not in a glorious blaze of color, that is.
I imagine, however, if I were to live on a road called Sunset Valley Lane, that things would be different...wouldn't you? I mean, would you name something Sunset Valley, if you couldn't see a sunset? Which is why, despite City Boy finding a near beating heart at the top of the ridge, nestled up against a bottle of beer, which in turn was leaning against a makeshift cross made of old, tattered silk flowers, I believe I just may want to live here.
Plus, it would shave 11.5 hours off my driving time to see the wild horses. Not that this is a motivating factor...
The home sits at the top of a knoll, surrounded by trees of all shapes, sizes and colors.
A most adorable little cabin sits alongside an old cattle chute. Perfect for the occasional overnight guest, don't you think?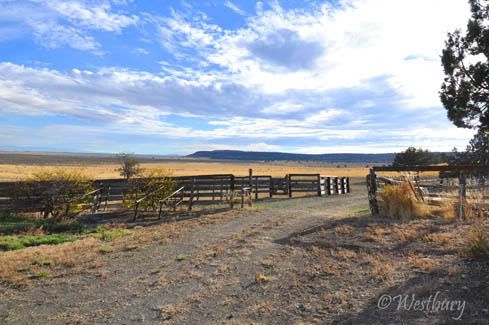 The property includes 440 acres...its' long and, well, narrow by Harney County standards. It stretches roughly a half mile out behind the home. Be still, my heart...be still...
The silo has been converted into...guess what? A tack room! Perfect. Blissfully so.
Corrals and chutes are made of board and what I am assuming is juniper log (very prevalent in this region.)
No, I never did see a sunset while I was there...but to be fair, it was 4 in the afternoon. And there was sun... Sure, the current weather conditions for the region are a whopping -8 this morning, and that is without the windchill...but don't you think it's a fair trade off for land stretching a half mile...and
sunsets?