As I reflected today on my time with Sandy, I remembered a little note sent to me by a friend about how God puts people in your life..."People come into your life for a reason, a season, or a lifetime," it begins.

Sandy was here for a reason...and a season. How blessed to have two of the three! I learned a lot from him about myself and what I'm capable of. He also gave Darling a good start to becoming quite the young horsewoman. We've been blessed to have him in our lives. But for whatever reason, God had me wondering aloud one day about letting him go...and in stepped Valarie and Dave. And so my season is done, while Dave's reason, season or lifetime is just beginning.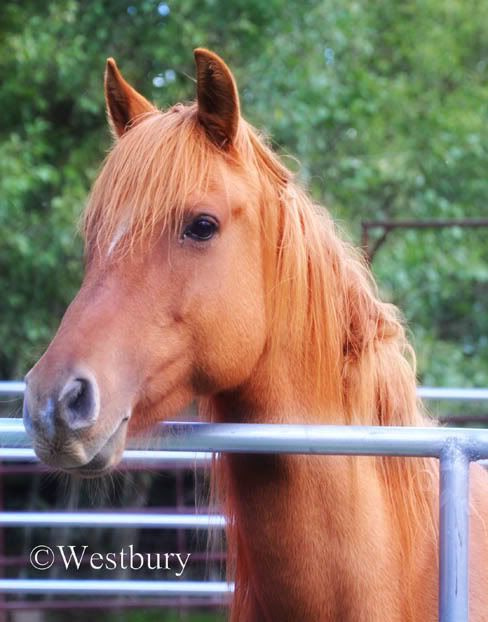 And into Sandy's place steps Tika. The Beautiful Wadatika, who has stood patiently waiting for over a year now for me to step up and give her a reason to be in my life.
Tika was meant to be a TIP horse...one that came, was gentled, and then left with a new adopter. One that wasn't given much thought again, other than mentoring should problems arise in her new home. But by the end of three months it was painfully obvious to me that Tika simply was not a candidate for just any home. She was fiery and fearful and quite aggressive when she felt threatened. Where on earth could this lovely girl go? She simply was not a horse most people would be willing to deal with...and she had at this point captured my heart.
The other day I decided it was time to get serious with Tika.
Again.
She'd not been handled (
again
) for a good 2 months. Why is it that I work with her for three or four days, then leave her for 2-3 months? I don't know why...but I do. Something always stops me from moving ahead with this mare, despite her being completely ready for me to take those final steps with her.
Saddled and bridled the other day, I stood next to my red head. And I began to tremble. Fear gripped me. Why? What did I have to be afraid of? It was unreasonable. I took a deep breath and bounced up into the stirrup, my body and weight lifting up above the saddle. I didn't swing my leg over. I don't know why. I just stayed up...then lowered myself down.
Tika stood there quietly, patiently, wondering what the heck I was waiting for, no doubt.
I stepped up again, and again. And finally I lifted my leg across her back and settled myself into the saddle. And I sat there...for 10 seconds at least. Then I was off. Off, trembling, shaking, and crying. I buried my head in her mane, arms wrapped around her neck, tears running down my face.
Why was I crying? What was I afraid of? Tika turned to look at me with those most beautiful eyes of hers. I felt my burdens lifting. How is it she can lift me up? I pulled the saddle from her back, led her to my makeshift mounting block (an upside down water tub), and slipped onto her back. This felt good. It felt right. My butt fits Tika. My legs felt just right laying against her sides. I asked her to move, and she didn't. So I asked again, and got a couple of steps.
Fear was still there. I'm a mind over matter kind of girl, and this had me frustrated. Why was fear not leaving? So I asked Tika to move a few more steps, which she did, hesitantly, and I then slid from her back. I hadn't conquered the fear. But I had gained ground.
I've been told that it's a normal reaction after having been hurt. My toe is still broken, after all, and my right leg has deep tissue bruising...I feel mild pain all up and down my thigh, knee and calf. Self preservation, they tell me, is what has me rattled. I suppose that's true. I've been very protective of my leg, knowing that it's not got it's full strength. Could this be what's slowing me down?
My confidence, it would seem, needs boosting. And for this, I look to Tika, the red headed fury. God doesn't only place people in your life...he places beautiful mustangs with you, too.