Just can't wait to be on the road again...
That Willie Nelson jingle ran through my mind most of Friday, and by the first crack of dawn, Darling and I were definitely there, burning up the rubber as we headed once again for Oregon. It'd been Monday when we'd left the corrals and our friends Maggie & Farrel. In their trailer were Raven, the bay mother of Honor's Legacy (aka Gunner), and with her road the black and white pinto gelding, Lefty...City Boy's new horse.
It took all stinking day to get down to Creswell, which it should not have, and we were bone weary tired by the time we opened the doors to the pick up in their yard. But not too weary to haul ourselves to the round pen where Farrel stood with Lefty.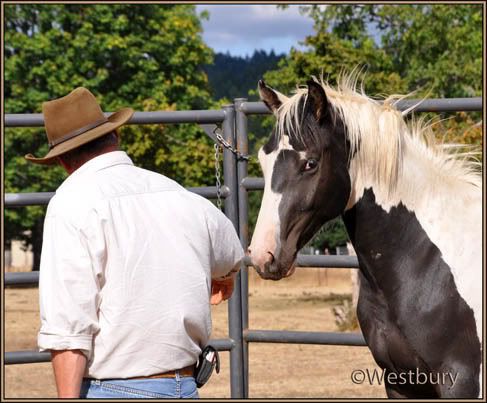 Lefty had been selected to use as a Promo horse by the corrals; the one they gentle and raffle off for a scholarship fundraiser. But he was so snorty that they felt he may be a bit too much for some folks. As big as he is, he could intimidate you into believing he was dangerous. So the halter came off and back out into the corrals he went. Lucky for City Boy!
We, of course, are not afraid of a little snortin' and blowin' around here! After all, Sandy did it for the first 3 months, and still does now and then. So while Wendy was pointing out a couple others that were also nice horses, my mind was kinda made up, and since City Boy was being a bit non-committal, I decided to go with the horse we'd picked (and the horse I'd picked back in February, then decided against, as it so happens.)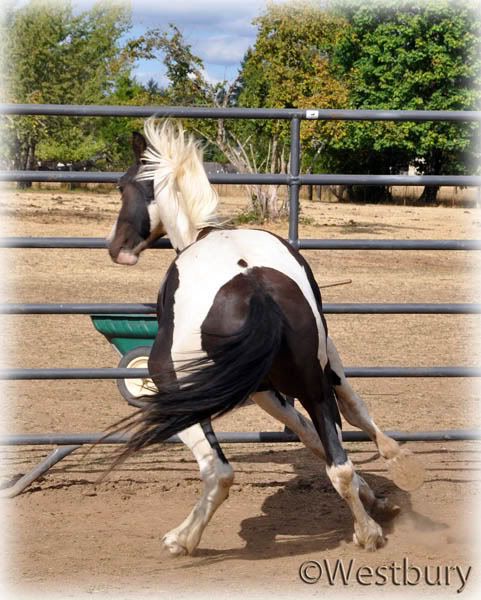 Working with him just a little in the round pen on Saturday night, it was obvious to me that this horse had some talent. He could move quite well, and was able to roll back over his hocks in his turns. "Could make a cutter!" was my far too audible thought. "You are not to touch this horse. Dad says it's for me and him to train!" came Darling's also very audible voice.

Well, we'll see how it all turns out. One thing is for certain; Lefty is very cute!