Started out a good day. Hauled Sandy and Lefty down to Curt's, figuring that Lefty had been solid enough that the trip would be good for him. He loaded nicely, bolted a bit when we unloaded, but then stood tied to the rail like a champ while Roz and I worked the HydraBull.
When we were done, I transferred my saddle to Lefty, who'd stood pretty quietly during all the commotion that'd taken place up until then. Heck, Curt had even run the tractor and harrowed the arena, and while Lefty's head was up and he was pretty intense in his staring, he was quiet.
Roz climbed on one of Curt's colts and took a brief ride, while another client showed up on his rather green horse, and through it all Lefty stood and watched intently. I watered the horses in the barn and decided that perhaps it was time to pull the saddle and load up to go home. We'd been there 2.5 hours, and I was mighty pleased with how the colt was doing.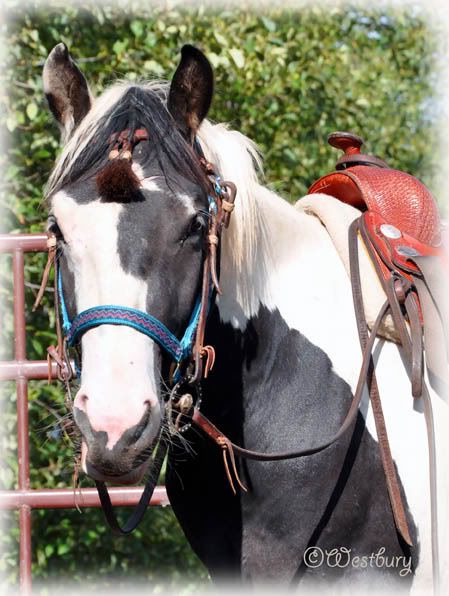 As I crossed the arena, John spoke to me and I was answering. I had my head turned as I approached Lefty, and reached out to put my hand on the saddle to loosen the cinch.
Which is when all hell broke loose. Lefty had been looking the opposite direction, and I hadn't spoken to him as I approached. He was caught 100% off guard. He did a half rear and shot back. When there was nowhere to go, he lurched forward, landing square on top of my left foot. The pain was intense and immediate. And Lefty didn't stop at that. He swung his head away, and both hind feet shot out so fast that it sent me spinning.
At first, I denied being kicked. I had seen those feet take a second shot at me, but was sure that he'd just banged into me with his haunches the first time. I was sitting in the dirt, clamoring quickly out of the way of the second kick, fearful of those feet coming into contact with my head.
Lefty snorted and swung back to face me, startled and not sure himself what had just happened. John jumped from his horse and rushed to my side. I asked him to get me a glass of water, certain that if I didn't put some liquid into my system immediately that shock would begin to set in.
Curt had been in the barn. When he walked out, he saw me sitting on the ground 15' from Lefty, and John's horse loose just a few feet away. He stood there a moment, trying to assess what he was seeing. I told him John had gone to get me some water, and by this time Curt had crossed the arena as I told him what'd happened. He held out a hand and helped me up. My left foot, the one that'd been stepped on, was throbbing. I was sure I'd broken at least one toe. The knee on my right side seemed to be fine...which is why when John came back and said he was sure Lefty had made contact ("I heard it!"), I said no. I walked to the end of the arena and sat down.
A minute later when I tried to stand up, I had to admit that perhaps contact had been made. Within minutes my knee was doubled in size and I couldn't put weight on it. Great...no weight on the right because of the knee, no weight on the left because of the toe! Great. Great. Great.
Linda put me in the car and hauled me off to the hospital while Curt and John dealt with the horses. A couple hours later, the xrays were done and thankfully the knee was just badly bruised and swollen. The second toe was broken, but good news was that it wasn't the joint and despite the fact that I'll be in pain for a good month (according to the doc), I'll heal.
So really, despite everything that happened, it could have been so much worse! Thanking God I'm okay, and going to be sure I don't let things distract me when approaching a horse, despite how good they may appear to be!