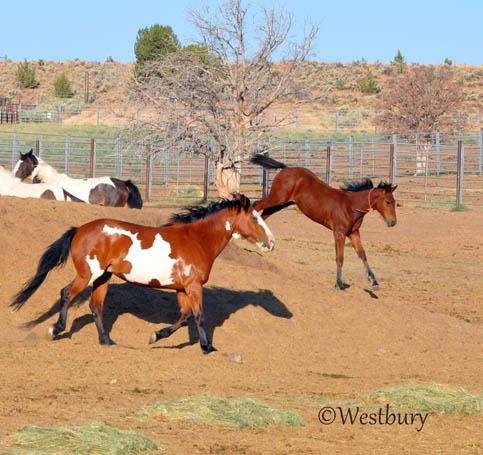 The corrals are normally closed on the weekend, but if you time it just right you can slip through the gate in the early morning during feeding hours, which is exactly what we did on Sunday morning before heading up to Stinkingwater. Yeah...I said Stinkingwater. What sort of name is that? I'd love to learn the history of it (though it sounds rather obvious, eh?) Among the many horses at corrals was this lovely pinto and her stunning bay filly. The morning was brisk and play was the name of the game. We all wondered just how closely this mare may be related to Dibs. Sister? Cousin? Certainly a resemblance.

We'd been told by our Harney County friend, Andi, that there were a couple of entrances into Stinking Water; the first was an unmarked dirt road just past the rest area, and the second was yet another dirt road, but this one marked. The marked road, she said, was the backside, so we were pretty intent on finding the first road.

But we didn't.

We did find some cows.


And we found a ridge with a beautiful view over the Stinkingwater Reservoir.


The road was long and dusty. And long and dusty. And long and dusty.

And long and dusty.

And bumpy.


After traveling for several hours (I kid you not), we finally found ourselves faced with a sign (BLM land has signs in the middle of flipping nowhere, telling you how far you are from the next nowhere) that told us we were just 12 miles from the highway. I was never so happy. I didn't care if we didn't see a horse. I just wanted off the long, dusty, bumpy road.


Along the way we'd seen several campsites with twenty plus foot travel trailers pulled in by hunters. It was insane, as windy and nasty as that road was. Farrel had put the truck into 4WD more than once, and we weren't pulling anything! Hunters are crazy. And as we drove out of the HMA, we spotted one ahead of us, hauling his trailer out, and before anyone really realized what was happening, that trailer's dust blocking our view, suddenly a lightening bolt of movement as a dozen horses galloped wildly across the path of the hunter, leaving their water hole and making their way up the hillside. And we were stunned. This is the image we often think of when considering wild horses, not the peaceful, tranquil sight we often see on the Steens.

We found a place to pull over and ventured up across the lava beds that the horses appear to make their home. As we climbed the hill, we spotted the stallion.