Red stepped up to the plate for me these past two days. Good thing, too! He followed me into the horse trailer, allowed me to scratch on him some, and then went to eating his grain while I walked out. Now, for anyone who's tried to teach a young horse to load, you know the danger of walking out of a horse trailer and having a frightened baby turn right over top of you and mow you down on it's haste to exit! Thankfully, Red did not do that.

City Boy was out at the barn with me last night, offering treats to both Tika and Red. Red wasn't too sure. After all, City Boy is a stranger and you're not supposed to take treats from strangers...are you? Well, maybe just this once....
Now...for an update on the Red Headed Fury...
With so much time being devoted to Red, Tika has been left pretty much out in the cold. City Boy, knowing how much the mare means to me, has spent some time trying to win her over. One day he came into the house, excitedly bidding me to return outdoors with him. He walked out to the field and climbed through the rails, then called to Tika who was standing some 20' away. She threw him her "I'm better than you, and bigger and faster, too" look, but when she realized the hand was outstretched, she turned with ears pricked forward and gently took the treat from his fingers.
And so it's gone with the two of them for the past two months. I'll head out to catch her and hear, "What are you doing out there with my horse?" Not that he's totally sold and convinced he cannot live without her. But he did set out to win her over, and it would appear he's come as close as she'll allow one to come with that goal. From inside her stall yesterday, she pinned her ears and began pawing the ground when she decided she wanted grain over a treat, and City Boy just chuckled. "You're not so tough anymore," he told her. And with that, she gave up.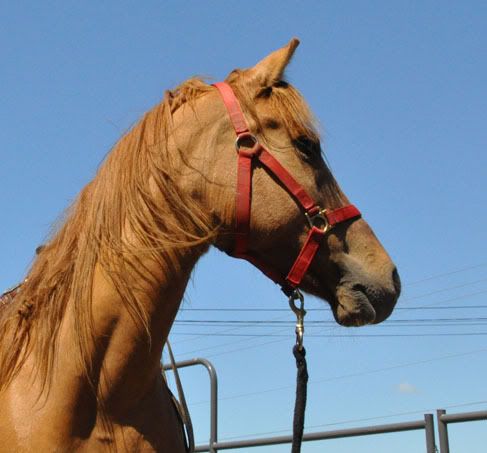 Tika accompanied us to the Mother's Day open house at Elenbaas this past weekend. It was a terrific experience for her to get out there with all the traffic coming and going. She's had a bit of a fright, and I'm afraid I was the cause of it. Not that I've done anything big or different or gotten after her at all...she simply has a fear of turning her tail towards me when I pull her around with a rein or lead. You know...that little training thing Curt taught me, where my arm goes over the back, allowing me to stand on the left and pull the horse to the right. It helps the horse learn that they can give to that pressure even without a body being there. It's the thing I really wanted her to be able to do before I started riding.

Sadly...Tika goes into a panic when it happens. I'd really hoped that after a few turns, she'd figure it out, but the panic button gets hit each and every time. So I leave her a couple of weeks, then come back hoping she'll be better...but it never is. The last time I finally decided that it just wasn't going to work, so instead I stood at her side, picking up the lead and bending her nose toward me. She thought it meant she had to move her feet, and fast. It took her awhile to figure out that she didn't need to move, and I was happy with that.

Until the next time I saddled her up, that is. For the first time ever, Tika went broncy on me. I led her from the hitching rail into the arena, no problem, then felt the lead bouncing in my hand like a fish on a line. I turned around to see big, heaving, shoulders springing into the air while the pretty face of hers was tucked between her forelegs! What the heck? Thankfully she's super sensitive in the face, so lifting and pulling on the lead got her attention and she came back to the ground. Once in the round pen, she refused to let me stand alongside her, bolting away from me instantly. It took me awhile to realize this was a out falling from the last session, two weeks earlier.

To say the least, I was surprised, since I never ask anything of her in a forceful, pushy way, and we'd ended on a good note the last time we'd worked. But obviously she was harboring some fear. So I spent the next fifteen minutes getting her okay with me standing at her side, and putting my hand up on the saddle, letting her know that I wasn't going to ask anything of her other than to relax. I took the time to string a few days together so that the lesson would stick, and it seems to have done that. I was able to put a foot in the stirrup the other day and bounce around without her darting off.

It does cause me to ponder, however...will I be able to ask her to turn around without her being afraid? That is, after all, the whole point of the original exercise...