Several months back...like, maybe in February when Dwe went to Burns for Color Fest...my friend Debbie told me about a yearling colt she had that she wanted to get rid of. "Take him, he's yours!"

Debbie raises foundation quarter horses, and some very well bred ones I must admit. But this colt and she did not get along. He was jumpy and fidgety and a buckskin. And to hear Debbie tell it, there's never been a buckskin she can get along with. Put a stripe down it's back and call it a dun? Yes, she'll say, he can stay. No stripe and it's B'Bye.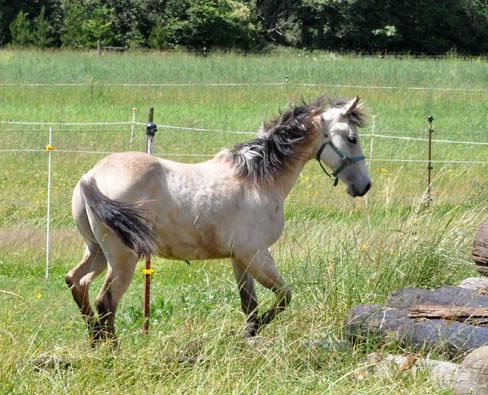 I, naturally, resisted. Where was the brand? What fun could I have with a little domestic? Where was the challenge in that?
Of course, there was the small fact that he'd reared and struck out at her in his stall one day, clipping her hand and causing a great deal of bruising and swelling...which was followed by an immediate swing around and kicking out at her. That was kind of wild. And the fact that he didn't want to be caught when he was out in the round pen. That, too, seemed somewhat familiar to me.
And his breeding? Well, for those of you into this sort of thing...how about a grandson of Buckaroo Bueno Chex on the bottom and Beuno Starlight by Grays Starlight on top? Yup, I'd say he's pretty well bred. I sent a copy of his pedigree down to Curt, who immediately (and so predictably) told me this was one well bred little cow horse, and if I could I should take a chance on him.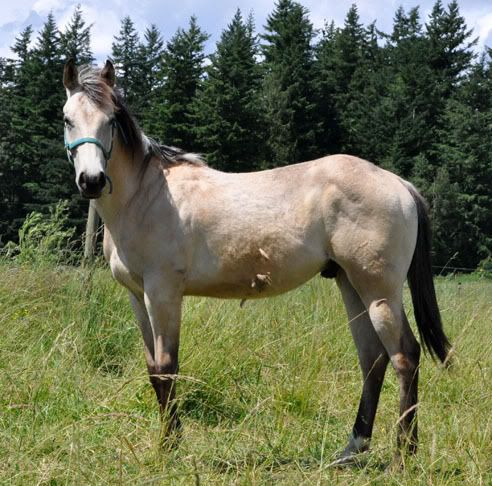 But...what about the brand? I swore I'd never own anything but mustangs again...why would I take on such a cute little rascal as this? I'd need to get some fabric paint and paint something on the side of his neck.
Funny thing is, I was leading him along one day when someone looked at him and made a snide little 'mule' remark. I had to chuckle. She thought he was a mustang, and felt compelled to throw a little dig in without even taking a closer look. Or perhaps I should take it as a compliment, that she couldn't tell the difference? My mustangs obviously look like well bred quarter horses!
Well, despite his inferiority and lack of brand, City Boy thought he was kind of cute and gave his approval. Nic is my token quarter horse. He's turned into an absolute pussy cat, though, so I may have to sell him before long and find myself something with a little more spunk!