"You're a great warhorse, Sandy...believe in yourself!"
Had you asked me last week, after my trail ride with the Girls, or the lesson down at Curt's, that this week I'd have sold Sandy, I'd have laughed at you. Truly. Laughed. Out. Loud.
I don't know what made me post to my facebook profile: "Considering selling my boy" that evening. No clue. Just did it, with a heavy, downtrodden heart. A lack of space to do what I want...what I
need
...to do. My goal all along has been to transform hearts, not only of mustangs, but of the people who see them as worthless. Be honest with me. How many of you would have ever considered a mustang as a horse of value until you met Sandy and the others here?
Last year, Val and her husband Dave stopped by to look at Sky Bar, the pinto gelding that I'd recently brought home from the corrals. Nice...but not what they needed. Dave was looking for a nice, mellow gelding to ride, and of course Sky Bar had yet to be started under saddle. Val's parting words had been, "If you ever decide to sell Sandy..." I think I laughed.
The moment I posted, the inquiries began. Selling Sandy? Really? Tell us more! Such an eruption of emails and messages...I'd never expected it. Sure, he's a great horse. A terrific horse! But I really hadn't anticipated such a quick response. I'd thought I'd have a few days to think it out...prepare myself...change my mind...
After all, Sandy had been here through thick and thin. He'd gotten me over fears I didn't know I had. He taught Darling to ride. And transformed hearts...not just of those who'd thought mustangs couldn't accomplish what he had, but hearts of my young autistic friend, John, who over came his fears and reached out and touched Sandy when he met us out on the trail.
What the he!! had I been thinking?
It was 5:00...Val and Dave were due, but not here. Changed their minds! Yes? No. Just five minutes late. They were all smiles when they arrived. Val had seen my post on facebook, and I seriously don't think it had taken more than two minutes before she was writing to me. Anyone else? I'd have put off. But here was Val, telling me Dave was still, a full year later, looking for that perfect gelding.
We walked out into the pasture together. Sandy looked at us out of the corner of his eye. He'd just returned from over 2 hours of dragging that yellow colt around the trails, yet aside from that sideways look, he didn't give any indication of not being willing to go back to work.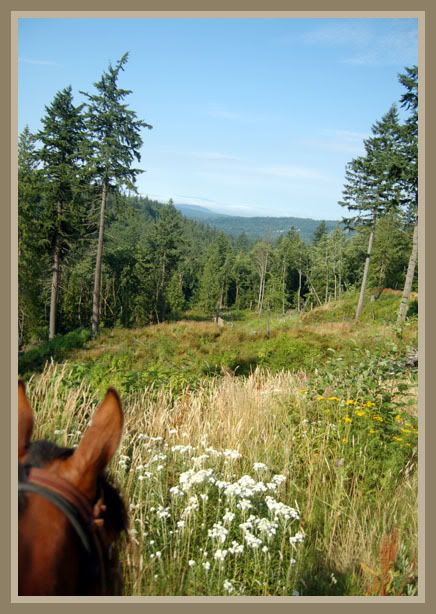 The view from between brown ears; Sandy's first ride up above the valley.
I saddled my boy up as we chatted about his strengths and weaknesses. Dave is a farrier...a good hand on the ground, and a great admirer of Sandy's feet. I climbed on, rode a couple of small circles in the driveway, then offered to let Dave climb on board. His hands were soft and light, Sandy's nose was tucked into a horizontal position, and they walked and jogged back and forth. "He's so responsive," Dave said with admiration. Yes...yes, he is.
My mind had been racing since setting up this appointment. I had a cutting clinic coming up in September...followed by our first competition. It's what I'd been working toward, showing the cutting horse people that my little mustang could hold his own. But if he was sold? I pushed the thought from my head. If I was ever going to sell Sandy, this was the couple I wanted to have him. Hands down. They're thoughtful, understanding, and appreciative of the work I have into my boy.
So many people backed down the moment I told them the price I'd set. "I'm not asking a poor economy, half broke grade horse price," I told a couple of them. "You may be looking for a trail horse, but Sandy has training beyond that. Don't let his lack of pedigree fool you." That changed a lot of minds. There were honestly only two people I'd have considered letting Sandy go with...Val & Dave, or Canadian Cowgirl (yes, she did contact me!)
Still...I found I was asking myself, "Did I really accomplish what I needed to with Sandy? He could go further...if I wanted to."
"We never really would have considered a mustang if we hadn't seen you with Sandy," Val was saying. Well...that answers that question then, doesn't it? Mission accomplished. Perhaps not my personal goals for glory in the cutting arena, but certainly Sandy had changed minds across the globe, as well as here close to home.
"We'd love to leave him with you until the clinic in September...if you wanted us to."
Really?
There is a time for everything, and a season for every activity under heaven:
A time to weep, and a time to laugh; a time to mourn, and a time to dance...
There is a purpose to everything in God's world...and a season. As difficult as it is for me to say goodbye, I believe my season with Sandy has come to an end, and I can't think of a better family to send him to...where he can be loved and appreciated just as much as he is here. It doesn't matter to Sandy if he's cutting cows, though Dave said it may be fun to learn how to do some sorting or team penning, and Sandy would certainly be good at it. Most important to both Sandy & I is that he's cared for and loved, which he will be with Val & Dave. Plus...they're close, and I can see him when I need a fix. And they're leaving him with me for the summer...I'll have a few more weeks to love on my boy and prepare my heart to say goodbye.
And maybe? Maybe kick some quarter horse butt at the cutting in September!