Over at
Sunday Stills,
the theme is Potluck. At first I was confused...was I supposed to host a potluck and take photos? But no, it was simply meant that we could post an array of photos of our choice. Basically, bring to the table whatever photos we wanted to share. Now, does life get any easier than that? I dun think so!
Naturally, my potluck involves horseflesh. First up, we've got a nice walk along the creek with City Boy and Sandy. We'd been on our way down to the pasture for some grazing time, and it was just too pretty with the cherry blossoms over top, wouldn't you agree?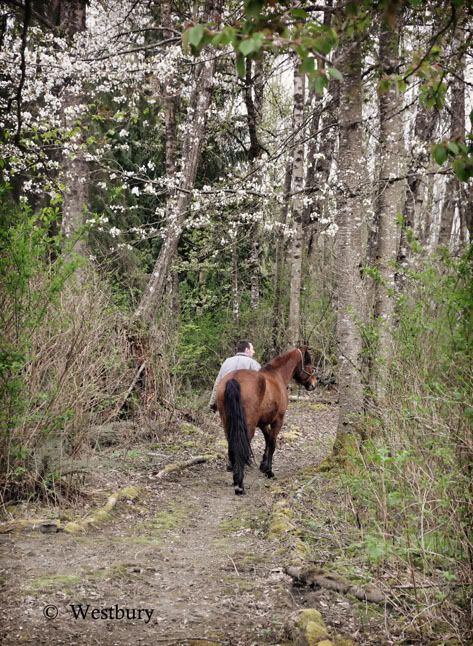 Oh! And I've got to tell you, because this is exciting (at least to me)...Tika got her feet done! All four! And she only tried to kick out once. Sadly it was with gusto, and the farrier was not too happy about it. He took the lead and got on her case big time, which was really good for her because, you know...I don't seem to have those same issues with her and she needs to know she can get into trouble and still be friends with someone. She got over the punishment and stood nicely for him after that, and he complimented her ability to come back around and be such a good girl. He's very impressed with my wild child. Of course, she kept doing her funky lip thing through the entire process...
( I know...this potluck photo is leftovers!)
One last tidbit (okay, it reads more like a novel) that I'll leave you with is this: I've decided to stop thinking about what Red and I have not accomplished. It's far too easy to dwell on the negatives and as slow as he's moving, they tend to overshadow the positives. But a snail's pace is still progress, right? And progress he's making. The lead is back on, though in a shortened state so that it no longer drags the ground under his feet. When it first began to swing around beneath his face, he was startled and confused. But rather than running in a blind panic (which he'd have done a couple months ago) he simply bobbed his head and tried to figure it out. Yeah! Progress! And proof that he's a thinker.
Red is able to tolerate being touched on the left and the right. I can now touch him up near his poll, just behind his ears, when on his left. I ran my hand halfway to his knee yesterday. I rubbed down onto his ticklish flank. He leads nicely. When we come to a stop, I can now walk towards him, right past his face and stop alongside his neck without him turning his hip to me. He allows me into his 'head space' on the right side, too! While eating grain from a pan on my lap, he'll let me rub on his cheeks, and he's even eaten a mouthful from my hands.
Gone are the days when he used to kick out like a bronc and not stop until I feared for his well being. He's not broken into a white lather in weeks. I tied a piece of sheet to the end of my lunge whip and can drop it over his back and neck, and let it bump on his hind legs. I can throw the end of my long rope towards him and he doesn't go cuckoo; it can even bounce around his front legs without any reaction, and limited reaction when I toss it over his hindquarters to fall down his back legs (he's destined to be a roping horse, so rope training is essential!)
But Red's biggest accomplishment this weekend was the placing of the saddle blanket into his back. He allowed me to rub his left side with in, and I could even pull it off from the right side with little trouble. In fact, I put it on him, laid the rope over his back and came in to get my camera and found him standing where I'd left him, no worries, just waiting for my return.
So there you have it. A little bit of almost everything. And just so Steve Holt! doesn't feel left out...here he is. He needs a shave.