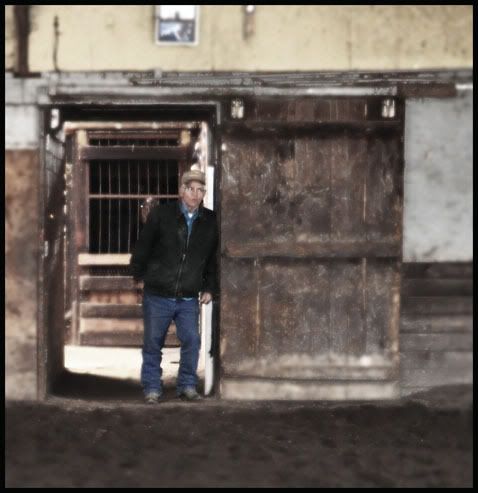 The Old Master
Really, Sunshine?
Really?
My lens was pointed towards Curt as he hollered out his warning. Ooops. Too late. Click. Done. Taken. So sorry. Poor old horse trainer, having to put up with me.
I'd finished up with my lesson when Curt asked if I wanted to ride his red mare. Sure, you bet! I love to climb up onto anything he's got to offer, and this big ol' hunk of a mac truck was bred to the hilt. Curt had owned her sire, an own son of the great Peppy San, some 20 years ago when I'd first met him. This mare is probably 15 hands, maybe 15.1, but she's so enormous that you'd think her much taller.
I gotta tell you, if I were ever to fall off the wild horse wagon, it'd be for a mare like this. And there's simply no reason for it other than she's been allowed to get away with stuff the past several years, and that stuff is the kind of stuff I love dealing with.
What stuff is that? Needless to say this girl is bred to work, and she's got a motor that simply won't quit. And I mean that, literally. She can't stand still. She walks in this little jittery, on edge, gotta hurry up gait. She'll walk in place given the chance. And jog. And lope. She's not an easy ride simply because she's thinking go go go all the time time time.
Now, I don't enjoy the ride she's offering, but I LOVE showing her how to relax. It's the greatest thing ever! Some folks can't stand it. They want to get on and work the horse, thinking they can wear it out. You can't wear down a horse like this, though. You've got to change the approach. This girl has a mind, so asking her to walk circles, stop, back, walk some more, and staying quiet while you're doing it rather than snatching and getting upset when she tries to bounce off the wall is very important. Yesterday I rode for close to an hour, and she worked up quite a sweat despite the fact that we did more walking than anything else. It caused her nerves to explode inside, but on the outside? Her head began to drop and she started to relax, coming down from her parade walk to an almost normal horse gait.
It.
Was.
Awesome!
Equally awesome to me were Curt's words of encouragement, telling me this is just what she needs, someone who's quiet up there on her back and not getting upset with her when she tries to do the stuff she does. Means the world to me that the old master feels confident enough to let me ride these horses for him.

This mare had been started by Curt several years ago and has, for the most part, been hanging out as a pasture pet with her owner. As I said, she's got a motor, and her owner didn't seem to mind much when she'd dance her little dance (it's kinda fun for some folks, eh?), but he'd like his granddaughter to be able to ride her now, so she's back in for a tune up. I'm just thrilled to be able to be part of that process, even if it's only once a week when I can squeeze in a little extra time after a lesson.

This mare, Sandy, Red, Tika...they've all got that same sort of 'stuff' that seems to call to me. A little insecure, highly intelligent, unsure of how to relax. That's the game I love to play.