The other day I drove south to clean a few stalls and ride a couple horses for the Old Cowboy. Sheza has developed sarcoids over the past few months, however, and one of them was beneath where the saddle sits. Up until now, I'd continued to ride, as it really didn't seem to be irritating her, and it was quite small.
Now, some of you may be asking what a sarcoid is. I'd heard of them for the first time a few years ago, but had never had a first hand encounter until now. There are several forms of sarcoids, but in short, they are skin tumors on horses, often benign, and somewhat common (or so says the Wiki page I found.)
Not only are there several forms of sarcoids, there also appear to be several ways and thoughts on how to treat them, from freezing to treating with a chemo agent or tying them off with a rubberband.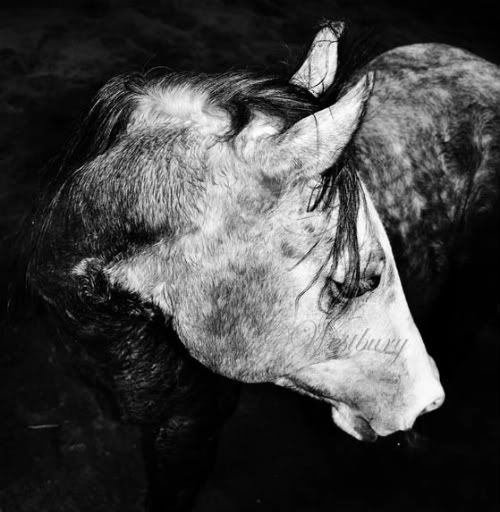 The sarcoids on Sheza are nodular sarcoids; firm lumps that raise up like warts. Two are small, but the one on her side had begun to grow and was now about the size of a fingertip. I'd discussed with Curt the best way to remove them. He had me don a pair of rubber gloves and handed me a cream which was a chemo agent. Before starting, he shaved the area around the nodules for easier application.
I'd have taken a photo, but for two things. One, my hands were wearing gloves and full of cream. Two, the battery was dead on my camera because I was smart enough to not notice that I'd bumped it into the 'on' position when putting it into my truck.
In any case, riding is currently out of the question. Curt believes it should only be 4-5 days before the one on her side has disappeared, but the cream needs to be applied daily until that time. It's rather disappointing to not be riding this girl, as she challenges me in ways my own horses do not. She's a great teacher for me.
But while I wait for her to heal, we'll have some super model fun (shhhh....don't tell Tika!)