Come this time tomorrow it'll be bright lights and sunshine as Darling, McDebbie and I meet up with our friends Karen and Andi in Las Vegas. We're heading down to Summit of the Horse...called by some 'Slaughter of the Horse'. I'm honestly not too sure what to expect, though I'm hoping we'll meet up with some like minded folks who have a heart for what we're doing with the mustangs up this way.
But I can't think about that right now, because I just finished measuring my bag to see if it qualified as a carry on (it does!) and am trying to figure out a way to pack a laptop and camera into the second bag. It's a puzzle, to be sure.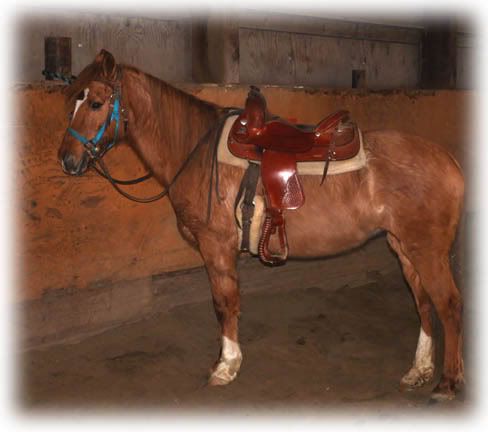 I'm having a difficult time concentrating even on that, because my head is still in the clouds after today's ride on Tika. I worked her for about fifteen minutes before Curt showed up at the round pen. Today was ride six; we'd been on the lunge line each day, though the last time I rode (Friday), Curt had taken it off for the last few minutes. Today, once I was up, he unsnapped us, and off we went. Walk, trot, lope. And stop. Oh...what a glorious stop my girl has! She knows how to use her hiney, that's for sure. Even Curt let out a whoop as she stopped from the lope and set her hind end down. He calls her Cinderella...doesn't that just put a smile on your face? "How you doing today, Cinderella?"
Cinderella came home today and will have a week off. It was all I could do not to pull into the riding club parking lot on my way back to the house and sneak a second ride, but I didn't. Duty called...packing must be done...feet must meet earth. I'm going to miss my girl this week!
For those interested in learning more about
Summit of the Horse
, simply click the link. They're having live feed, as I understand, so you may be able to watch parts of it from your computer.
Please say a prayer for us that we have a safe and productive journey, and I'll see y'all when we get home!