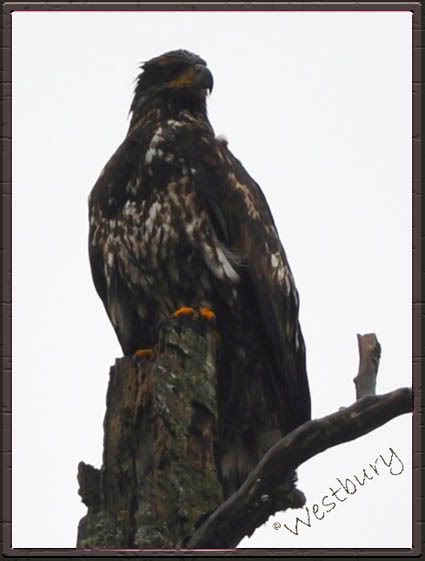 City Boy and I weren't too far up the road when it suddenly occurred to me that I didn't have my zoomie zoomie lens. City Boy merely rolled his eyes and continued up the highway. It was cold and damp and pretty-gosh-darned miserable out there. We probably weren't more than 15 miles up the highway when we pulled off and into the state run hatchery. From there, we walked to the riverbank and spotted a couple of bald eagles, along with this youngster perched on a snag. The baby sat there not paying us much heed, his mind intent on scouring the river for salmon.
Salmon are coming upriver to spawn right now. Once the females have laid their eggs, and the male has fertilized them, the salmon die. In the hatchery, the same thing is going on, only there are no eagles diving down to benefit. We, however, spotted several.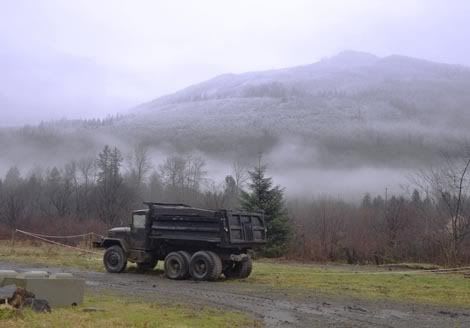 It was cold to the bone up there. Snow was falling in the foothills and the rain nearly cut straight through you. We didn't spend much time outside of the car. Who needed photos of eagles, anyway? Who's idea was it to climb that miserable mountain in such wretched weather?
We turned around and headed back toward civilization. Well, at least back toward home, which thankfully was just 20 minutes down the hill.
What's that? A bakery up here in the tall, tall timber? Hmmm...must stop. Must check. What have they got that we maybe must have?