They're difficult, no matter the situation. Goodbyes, that is. This weekend some friends of ours made the drive up here to pick up Lefty. This is difficult. City Boy has bonded. I have not. Oh...I may have if I didn't still have his hoof prints on my body. He is, after all, a real snuggle bunny when he wants to be.
Speaking to one of the wranglers at the corrals, she suggested that perhaps it was time to go cowboy with this boy and lay him down. I know...you were scared at going cowboy, weren't you? Lefty needs to know who's boss. But I've not laid a horse down before and not sure I can get this monster in a black and white wrapper to cooperate as my first victim.
Enter Feral Redeye, who has wanted Lefty from the beginning. We have no clue if Lefty will ever come around and make a solid horse for City Boy, or be a horse that I can trust, but Feral wants to see what he can accomplish. And if it doesn't work out, it doesn't work out.
So Lefty climbed into the same horse trailer that originally hauled him away from the corrals, and went back to the small farm in Oregon from which Darling and I picked him up several months ago in hopes of learning some life lessons.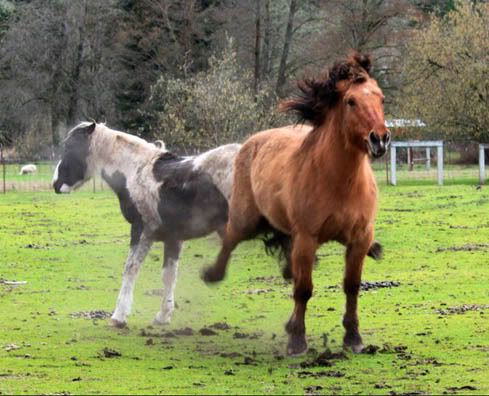 And the first thing that happened when he got there? Kicked Robbie, the drafty lead mare, and caused her to be three legged for a solid 30 minutes. Tika still has a knot on her leg, just below her hock, where he did the same thing when turned out with her. Hopefully Robbie will put him in his place, but I sure hope she doesn't get hurt in the process!