I love it when something tickles my memory and I think to go looking for information. One such tickle happened each time I looked at our scruffy little, trailer tailing, bay filly at the corrals.

For some odd reason, I found myself emailing Wendy at the corrals to ask about the mud muffin, telling her I never did get a good shot of her neck tag, but it was white...and just what was the number, did she know?
Honestly? Who would link the shaggy beast above to the slicked out yearling in the photo below? But as I suspected, it was.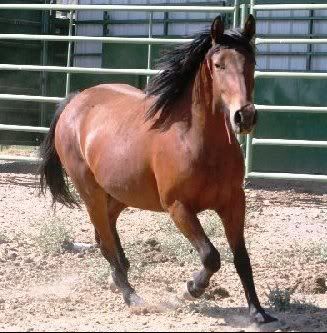 Darling loves her winter appearance and has dubbed her 'Monkey'. "Think of all the music I could put videos to if I had her!" Indeed, there are a plethora of tunes that could be used. Or any number of songs sung by the group sharing the same name. But I digress...

If anyone should be interested in this adorable little mud monkey, let me know. A trailer is heading to WA in a couple of weeks. I'd love to be able to put her into a home. She's obviously looking for a new best friend. Better pop me an email at desperatehorsewife@gmail.com and I'll get you the adoption application.