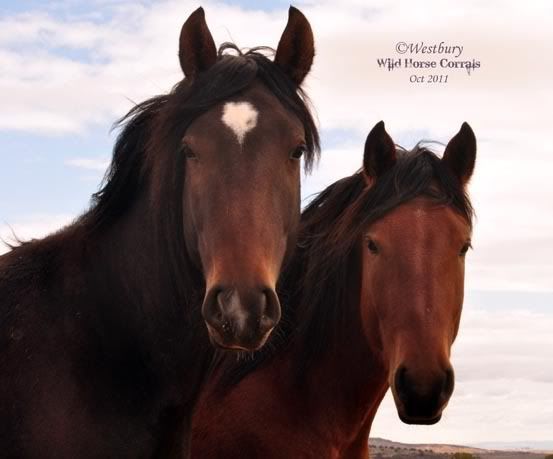 A spot of disappointment when we learned that the brown gelding we'd wanted for Ty had been shipped east to the adoption facilities there. I sent him a few new faces to look at, however, including the bay buddy of the brown horse here, and Ty agreed that the bay was very nice. In fact, he looked like he may be a little taller than the brown, which for someone who is roughly 6'4", would come in handy. And look at that bay face...does he not look like a sweet Sandy boy? I'm terribly fond of him already, even if he wasn't the brave one of the two.
Meanwhile, out in the round pen, Impulse is dripping...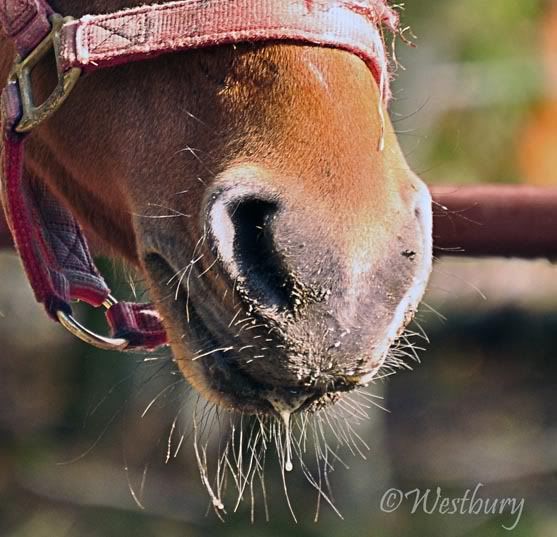 I'm not really sure what's going on here, but when I first walked out she had saliva dangling at least two feet out of her mouth. Never have I seen anything like this! I went back in for the camera, and of course it was all gone, and this was the best I could get. Have you ever had this sort of drooling going on?
I'd wondered if perhaps it was a tooth issue, and it well could be. But the part that is concerning is that she's got such a snotty nose along with it. The other day, it was green and runny. She refuses to try any grain so far (and for those of you who are wondering, alfalfa pellets are also out), so can't get any powdered antibiotics down her. I've sprinkled it onto her hay, but she avoids it. So plan B (or is it C?) is to contact the vet Monday morning and get something that can be put into her water, and only give her small buckets so that she simply must drink.
Being that she's rather sick, and pregnant, I'm trying not to push her along in the gentling department. But with the sun out the other day, I grabbed a long stick and rested it on her back. I don't think she felt well enough to really complain. Or maybe she's just easy? She trotted a lap or two, turned around, then came to a stop. I rubbed and rubbed the old hair out, and eventually got close enough to run my fingers along her hip before she walked off. Was good stuff, it was!