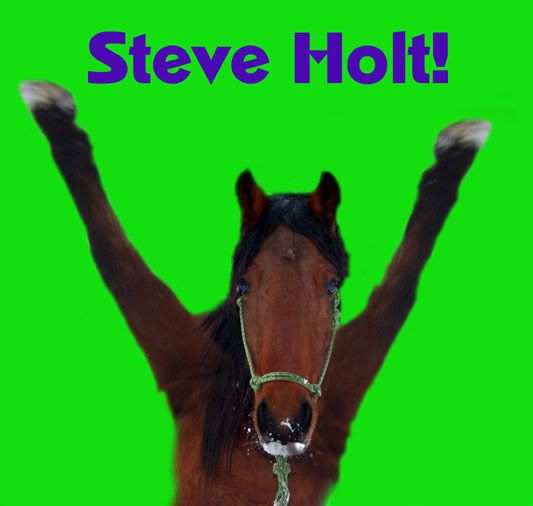 Late last week I had not one, but two emails from people interested in coming to see Steve Holt!. I set up the first appointment for noon on Saturday. That evening, the second woman called to set up a time to see him, and I had to tell her that a down payment had been left. Steve Holt! had found a home.
My first good look.
Can you pick him out of the line up?
He's the tall one!
As you can imagine, our emotions are springing and swaying to and fro, from joyful to sad, back to joy again. Naturally, we wouldn't let him go to just any home, it had to be a good fit.
No worries. The woman who came to see him was in love. Head over heels in love. She'd been looking online at mustangs and had no idea that the one handsome bay gelding that she'd so admired was the one she was coming to look at! How's that for fate?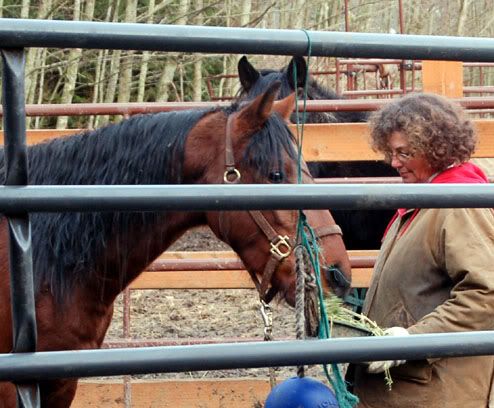 Eating hay and grain from my hands (well, the pan in my hands)
the first week home.
She and Steve Holt! clicked right away. I warned her that his lope was big. From the ground it's not so noticeable, but once in the saddle, she exclaimed with a smile, "Oh, yes, it
is
a big lope!"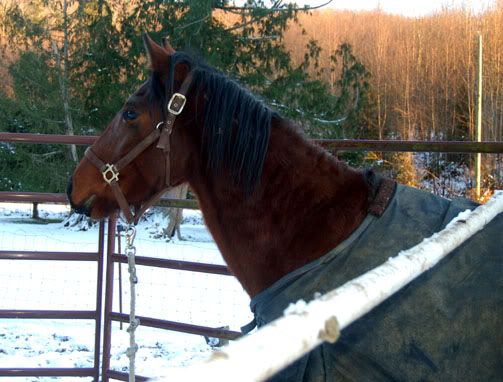 To the round pen we go...with an alder tree doubling as a bamboo pole.
She climbed off Steve Holt! and we led him into the barn alleyway, chatting and talking. She'd brought a bag of carrots...and he was in love. Head over heels in love! Who was this magical woman with delicious treats? This was good stuff!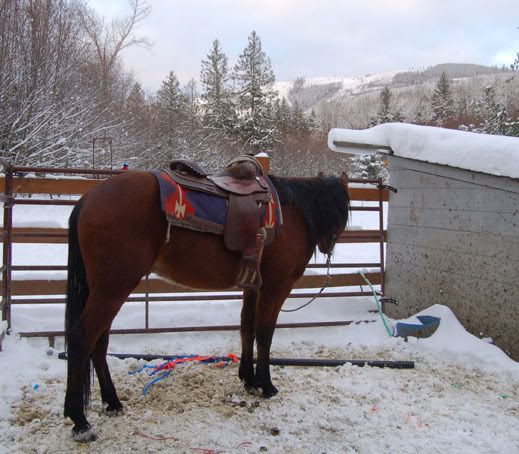 The end of week one...or was it the first day of week two?
Doesn't matter. First saddling. In the snow.
She'd been looking since July. I asked about her last horse, a paint who opted out of the 'leave the barn to go for a ride' program, it seemed. He didn't like to go alone. She'd asked if Steve Holt! was willing to go alone. Oh, yes, indeed, I replied. I ride alone all the time. He jumps into the trailer and loves to explore trails. No problem there.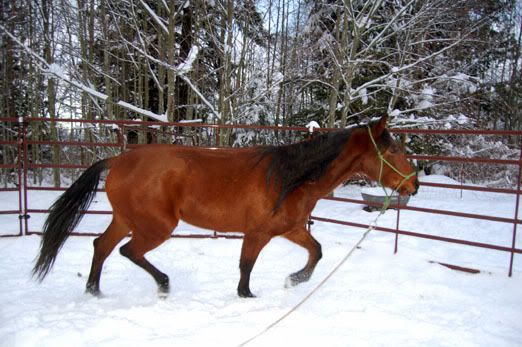 My, what a handsome boy he was!
My, what a white winter we had!

She had a dreamy smile on her face when she left. Steve Holt! had a dreamy look, too. She'd left the bag of carrots behind.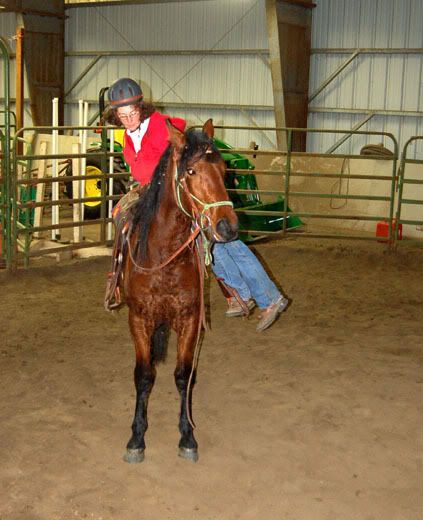 First ride...28 days into training.


Barn life seems to agree with Steve Holt!. She'd worried he'd be bored living at a boarding facility in a stall, but this week at the Cowboy's has been good. He just gets better and better each time we lead him from the stall. The Cowboy's wife said that perhaps he's just needed to have that added security of a snug shell of a home (box stall) and the companionship of humans leading him from point A to point B. I don't know, but whatever it is, it seems to be working for our big boy. He moves slower and slower each time we ride around the arena, content to be just a little lazy.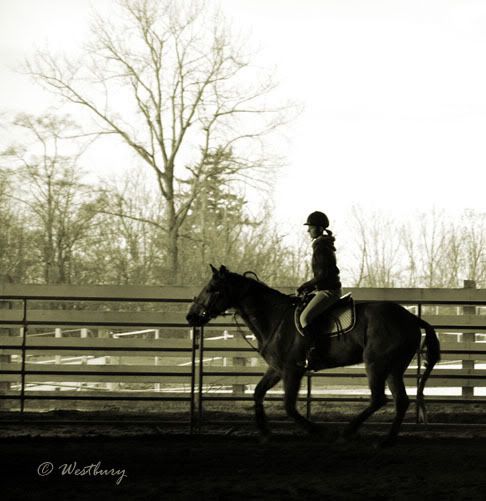 Darling at the reins...Steve Holt! becomes a jumper.
As the truck pulled away, Darling and I were smiling. "She's so nice!" said Darling. Indeed, she was. "And she brought carrots!" chimed in Steve Holt!. Okay...maybe not out loud, but he was thinking it! Darling's smile waned for a moment..."I'll miss him."
So will I, Darling...so will I. We've got a couple more days left with him, though. A few more rides before we say goodbye.