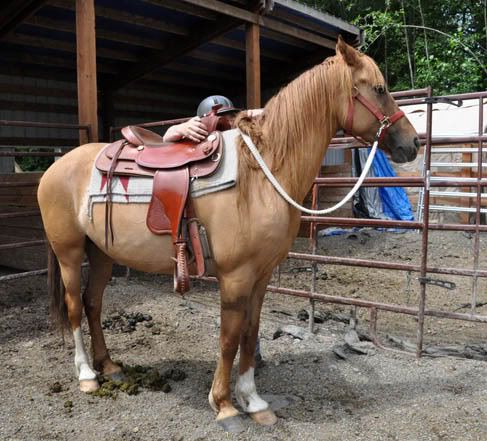 Finally, a bit of sunshine in the northwest! For a full week, at that. Can you believe it?

I had told myself that once Red was gone I'd spend more time with Tika, but several days worth of decent weather and had I done anything with my fire breathing red head? Nope. So yesterday I decided I'd just better make the effort, and I drug the saddle out and plunked it atop her back. What a good girl she is...never any regression despite her almost constant vacation time. She stood right there and let me cinch it onto her back without so much as batting an eye.

I have a confession. I'm a coward. There sat the chair, which doubles as a mounting block, inside the paddock. I'd closed off a stall and the space we stood in was a mere 12'x20'; not much space to get wild. But did I climb on? Nope.

Oh, I bounced up and down in the stirrup a bit, and I stood on the chair and leaned over that saddle, but when it came right down to it, I wanted an anchor in case Tika had a momentary lapse of judgment while I was up there.

And that was that. Except it wasn't. I pulled the saddle off and looked longingly at her back. Well? Okay, might as well get on with it. I led her back to the chair, climbed up onto it and swung my leg over her bareback. And there we stood, not unlike the many other times I'd swung my leg over her while at the riding club.

But this time was different, because Tika decided to shift her weight while I was up there. And then? Then she took a step backward...and paused. I rubbed her neck, reassuring her, wondering what she was thinking about the weight of me while she moved. I picked up on the reins and asked her to take another step back, and she did. And another.

I asked her to bend her nose to the left, then the right, after which she volunteered a few more backward steps. At that point I pulled her nose back to the left and talked her into moving a front foot in the direction of my rein. Then another front foot followed, and soon? Soon I'd sat upon my monster as she made a 360 turn with me upon her back.

And me? I called it good and slipped back to the ground...at least physically. Mentally? Still walking on air.