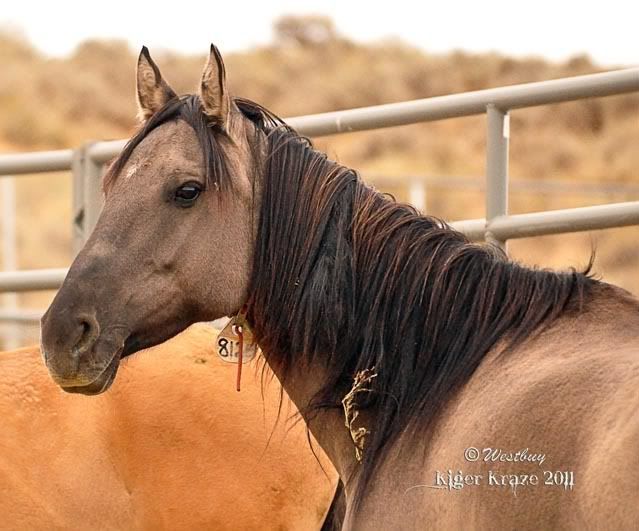 I'd looked at the horses available so many times online prior to getting to Burns that I didn't give most of them a second glance. The three year old grulla mare made me smile...she was almost homely, poor thing, and small. A great kids horse, I'd imagined. Too bad I haven't got a kids camp. Ah, but then the crazy color people would bid her price up just because of that mouse gray hair of hers.
I wasn't so sure that City Boy's theory of Kigers have greater resale would hold true. A good, solid broke horse holds value, but I'm not sure a Kiger would get you anymore. Still, somehow, I ended up with a bidder number on Saturday morning. And once I had it in hand, I left the Kigers and went to see what else there was to see. I didn't really want a Kiger anyway. The last one, after all, had turned out to be a real firecracker.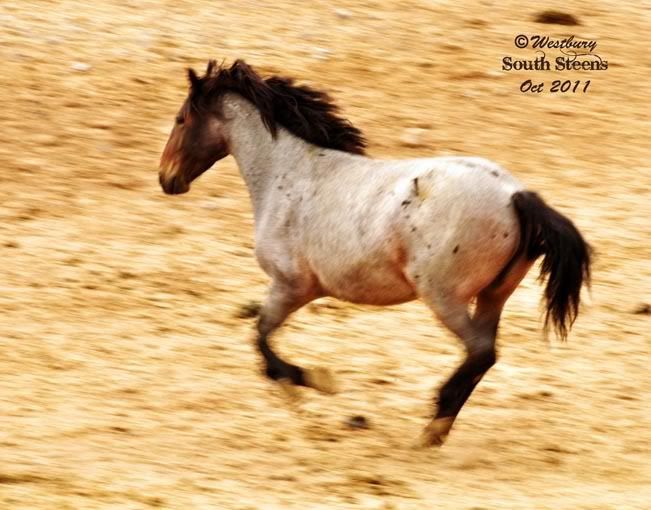 Lots of pretty ponies out there. It seemed the only Kigers I was drawn to were the stallions. Before long it was noon, time to set ourselves down on the bleachers, catalog in hand, and listen to the auctioneer call out numbers and prices. My friend Emily, a college student who'd for years had wanted a mustang, was there with us, along with her mother. They were looking at a bay colt as a dressage prospect. I'd told them not a problem, bay Kigers aren't popular with the money crowd. Unfortunately, someone else was interested in that same bay Kiger, and a bidding war ensued! Finally, Emily's mom gave up, and the other interested party had themselves a nice two year old colt for $3500.
For the most part, the prices were affordable...though we had no intention of spending more than a few hundred, and of course the grullo colts that City Boy had been interested in went for a bit more than that. One dark dun colt with loads of stripes went for nearly $9000!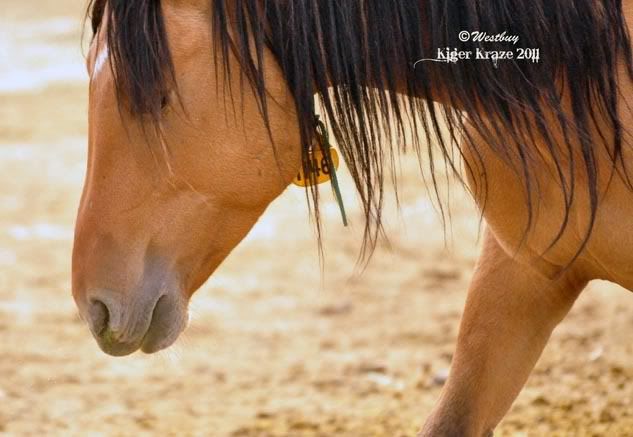 I was surprised that the four year old colts weren't being adopted. Some were really cute and for the base adoption fee of $125, you'd have yourself a very nice gelding. But they were a bit too small for City Boy, who would prefer a 15 hand horse.
As the numbers moved on, and horses were being bid on, my mom would show me the catalog and I'd mark down the prices on a separate sheet. We were about 70% through with the first go round when I twisted around to see a pretty faced mare in the catalog listed at 15 hands. My number shot up before I could think to remember just which horse this was, and before I could pull it down, they'd hollered out $125!, and then asked for more bids. So, I got the bidding started, and fully intended to not bid again, as I was having second thoughts. But...but...but...
Why wasn't anyone else bidding?
"Adopted!"
they shouted. What? Why hadn't anyone else bid?
City Boy rolled his eyes. "Come on, let's go see what you got." We walked out through the pens to the 2-3 year old mares. Immediate disappointment. What had I done? Oh, sure, she had a pretty enough face, and her eyes seemed kind. But look at those
hips!
What a weak hind end this mare had, and long back, and did I mention hips? Holstein Hips! Just like Sandy.
Just like Sandy...
that thought ran through my mind, and I recalled the first time I'd seen that ratty looking bay mustang. Ugliest one of the lot, I'd told my friend Lea. Hmm....maybe this mare wouldn't be so bad. After all, you could do a lot worse than Sandy!